SDHRC Research Webinar series 2021-2022 -"Health Through Arts: Connecting People & Communities"
Sidney De Haan Research Centre for Arts and Health (SDHRC) is launching a new research webinar series. Confirmed speakers from the UK, Europe, USA, and Australia will explore important interrogations around the impact of arts-based applications on individuals in healthcare and wellbeing contexts and settings.
Full details of SDHRC's upcoming research webinar series can be found below:
Next Webinar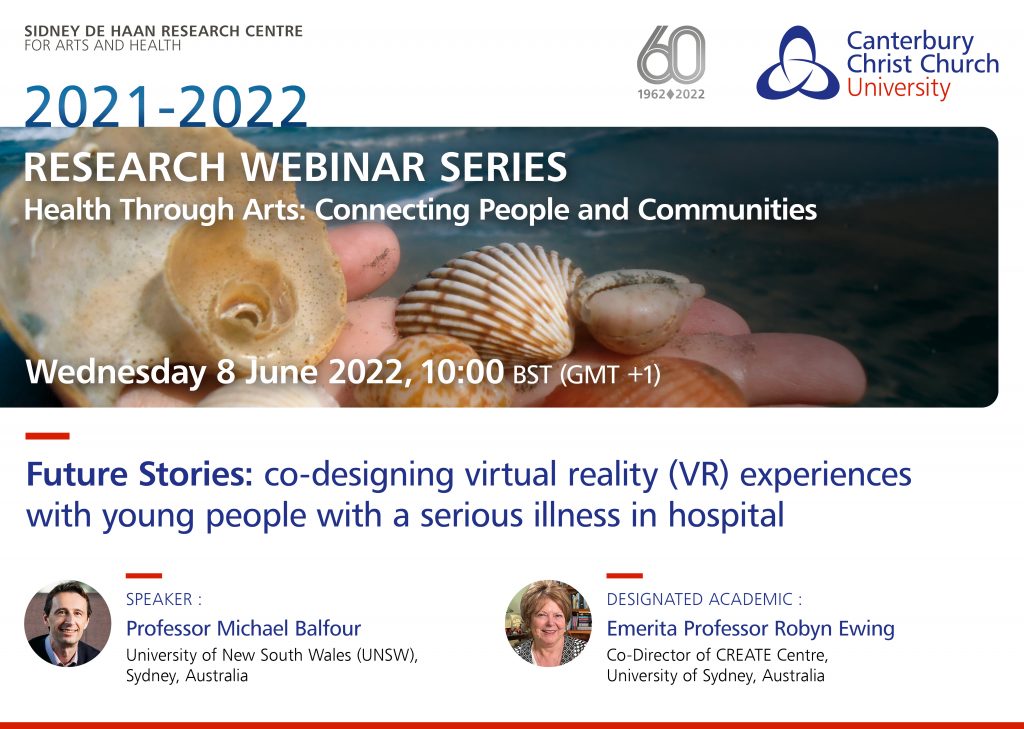 Wednesday 8th June 2022, 10:00 BST (GMT + 1) – To attend the webinar, click here
Title: "Future Stories: co-designing virtual reality (VR) experiences with young people with a serious illness in hospital"
Speaker: Professor Michael Balfour, University of New South Wales (UNSW)
Designated Academic: Emerita Professor Robyn Ewing, Co-Director of CREATE Centre, University of Sydney
---
Past webinars
Below you can see information on the SDHRC's previous webinars.
Tuesday 25th January 2022, 14:00 GMT
Title: "Applied theatre in paediatrics: Can participatory performance mitigate educational, emotional and social consequences of missing out school during hospitalisation?"
Speaker: Professor Persephone Sextou, Director of the Sidney De Haan Research Centre for Arts and Health, Canterbury Christ Church University
Designated Academic: Associate Professor Sydney Cheek-O'Donnell, University of Utah
---
Tuesday 22nd February 2022, 14:00 GMT
Title: "The Galaxy Choir: Exploring the impact of a choir for adults with a learning disability: promising findings and ways forward"
Speakers: Esther Coren, Assistant Director of Research, Julia Moore, Research Fellow, and Jacqueline Tallent, Research Fellow, Sidney De Haan Research Centre for Arts and Health, Canterbury Christ Church University
Designated Academic: Daniel Marsden, Senior Lecturer – Learning Disabilities, School Of Nursing, Midwifery and Social Work, Canterbury Christ Church University
________________________________________________________________________
Tuesday 22nd March 2022, 13:00 GMT
Title: "Applied puppetry in healthcare and disability"
Speakers: Cariad Astles, University of Exeter/Royal Central School of Speech and Drama and Dr Emma Fisher-Owen, Researcher, puppeteer, theatre artist and educator
Designated Academic: Dr Susan Linn, Research Associate at Boston Children's Hospital and Lecturer on Psychiatry at Harvard Medical School
---