Sissinghurst is one of the most loved places in Kent both for the literary connection of its owner, Vita Sackville-West, to the Bloomsbury group and also for the wonderful gardens she designed. Through reprinting one of Vita's poems titled "Sissinghurst" on an original letterpress, this innovative project revived a lost craft in a location of great historic and literary significance.
"Letterpress printing has largely disappeared since the industry was closed in the 1980s, and subsequent rise of digital media. Surviving presses are often in poor repair and missing vital components, while a diminishing number of owners have the skills to operate them.

Now under-read, Vita Sackville-West was one of the most prolific of the 'Bloomsbury group', publishing most of her work with Woolf's Hogarth Press.

The project raised awareness of her importance as a writer and enabled wider access to a poem, that remains out of print, and which focuses on her own response to the historic significance of Sissinghurst.

Training National Trust volunteers in letterpress techniques enabled them to tell visitors about the function and importance of the original Hogarth letterpress displayed at Sissinghurst, and its part in developing and promoting the famous Bloomsbury group, as well as increasing awareness of the important letterpress library collections owned by the National Trust."
Professor Carolyn Oulton, Director of the ICVWW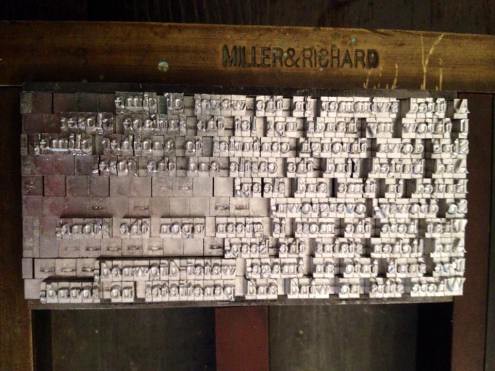 The project succeeded in preserving and promoting the literary and craft heritage associated with the Kentish Castle's famous historic owner: Vita Sackville-West.
Writer and friend of Virginia Woolf, Vita found fame in the early 20 th century not only for her writing and literary connections to the Bloomsbury group, but also for designing the wonderful gardens at Sissinghurst Castle.
Through a series of workshops led by letterpress experts from the University, Vicki Adams and Anna Fewster, the project has trained National Trust volunteers to produce 100 copies of Vita's poem 'Sissinghurst', using a replica of the Hogarth letterpress. The original Hogarth press that was used by Virginia Woolf is held at the castle and has recently been restored to enable it to be displayed. A first edition of the poem printed on the Hogarth press is also held at the property but is too fragile to be made available to visitors.
The project was funded by the Heritage Lottery Fund.